Posted by Better Living in The Organized Bath on 7 November 2014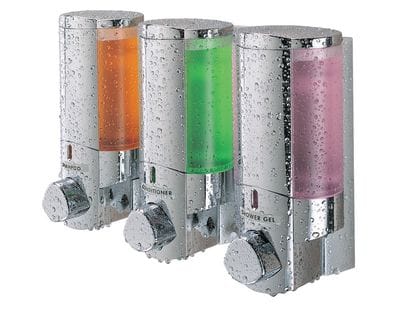 Shampoo, conditioner and body-wash dispensers have brought a whole new chic and stylish sense of convenience to the showering experience. After installing a shower dispenser, the odds are you won't want to live without one ever again! Fortunately, as long as you maintain and care for your dispenser properly, it should last as long as you need it to. Best of all, the whole process is very easy and more or less just comes down to some basic cleaning steps.
Here are a few key things to consider when cleaning your dispenser.
#1. Just wipe it down
Most of the time, your dispenser shouldn't require much more than a simple wipe-down. Use a soft damp cloth to clean all surfaces, and keep your dispenser looking brand-new.
#2. Watch for chemicals
Bathroom cleaners usually contain harsh and aggressive chemicals designed to clean ceramic and porcelain surfaces. These products will damage and deteriorate your dispenser, so stick to warm water, or a mild soap.
Whatever you do, stay far away from the following chemicals:
Solvents: Xylene, Toluene
Acids: Hydrochloric, Muriatic, Phosphoric, Hydrofluoric
Other: Alkyl dimenthyl benzyl ammonium chlorides, Bleach, Alcohol, Aromatic oils (found in aftershave)
Not only will they ruin the ruin the sleek and stylish look of your dispenser, but they can also void your warranty.
#3. Flush it out
If you've been using your dispenser for quite a while, there's a chance that a build-up of liquid or shower product may have coated the inside of the pump chamber. If this happens, simply unscrew the pump from the bottle, flush it with warm water, and re-attach it.
Note:after flushing the pump, you may need to re-prime it by following these steps:
Push the button in
While holding the button in, place your finger over the spout of the pump to block airflow
Keep your finger over the spout, and release pump button
Remove your finger over the spout
Repeat steps 1-4 until you have a continuous flow of liquid
#4. Enjoy your clean, just-like-new dispenser
That's essentially it! The only thing coming in and out of your dispenser should be cleansing products; therefore you don't have to worry about any major sanitation or hygiene issues. Give it a quick wipe with a clean, moist cloth, flush the system out if you need to, and your dispenser should be looking and functioning like brand-new for years to come.