A Question of Design
Discover how convenient it is to have all your bathroom solutions at the "touch of a button".
The product is The Dispenser.
A unique way to dispense favourite liquid soaps, shampoos, conditioners and moisturisers, The Dispenser is a practical solution to a universal problem - shower bottle clutter and wasteful spillage.
With The Dispenser, there is no more waste, each press of the button delivers a precise amount of whatever you need and refilling the chambers is easy. Liquids may be purchased in bulk so that The Dispenser helps you do your part to reduce plastic bottle waste.
Every bathroom has its own "look" and that is why The Dispenser has been designed to fit any decor. The Dispenser comes in white and chrome, with optional interchangeable silver and gold buttons, so you can be sure whatever effect you are trying to achieve, The Dispenser can help.
Sizes range from a single through to a four button unit. The Dispenser is also simple to install - with no need for tools and screws, it fixes to any wall in just minutes.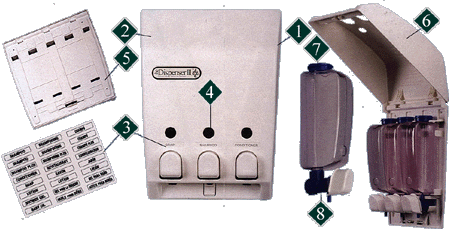 Sleek Body Design
The clean, modern design of The Dispenser body looks great and eliminates formation of water droplets. Although The Dispenser is designed to carry considerable amounts of liquids, it does not protrude inconveniently into your shower, which makes it ideal for boats or caravans or any small, contained areas.
A.B.S Plastic Body
The solid, durable, glossy plastic body is manufactured from the same rigid high-quality plastic used to make telephones. It maintains its high-lustre shine over time as it is almost self-cleaning!
Water-proof Mylar-Coated Labels
You can personalise your dispenser to include any assortment of liquids, in any order by simply applying the self-adhesive, water-proof labels. These are included in packaging with The Dispenser in three languages.
Level Indicator Windows
Special windows allow you to see when the liquids are running low.
Raised Adhesive Tracks
Tracks on the body are raised to provide constant water drainage and air flow behind the unit, preventing formation of mildew.
Snap-Open Lid
The rigidity of the A.B.S plastic is particularly noticeable while raising the solid lid of the dispenser - the lid clicks open and remains conveniently raised.
Pop-Out Chambers
The Dispenser is so easy to refill! The chambers have been designed for easy removal and filling, and then snap firmly back into place. They have a large capacity of 450ml (15 ounces)
Patented Pumps
Technically advanced in design and materials, the smooth hydraulic pumps deliver "just enough" liquid with one or two easy pushes on the button. Certified for 70,000 cycles over 20 years use by the average family.